Welcome to the Hollywood Handbook Handbook
[
]
A fan-created Wiki that is an insider's guide to bussin' up and scribblin' scoops on the Earwolf podcast that we call Hollywood Handbook.
Hollywood Handbook is an insider's guide to achieving your showbiz dreams from two A-List it-boys who are living theirs. Hayes and Sean provide an exclusive VIP backstage pass into Tinseltown politics, answer questions from unsuccessful listeners, and bring in famous guests to discuss their craft and how they became what they are (famous).
Some dweebies over on reddit.com/r/HollywoodHandbook are currently relistening to an episode a day, and updating as they go. Subscribe and join in the process!
Why a Wiki?
[
]
Ever wonder which episode featured Sean's lengthy vocal warm-up? Which episodes Chanson submitted popcorn for? When Andrew Ti wouldn't let Sean and Hayes sit at the popular table in the Earwolf cafeteria? (Hopefully) this wiki-in-progress can help guide you in the future!
You can help!
[
]
Relistening to an old ep? Make a funny reference to the show in your conversations and know which episode it's from? Browsing the wiki and see one of a million Red Links? Add to or make a page! Here is a list of Notes on things that need to be improved.
Latest activity
[
]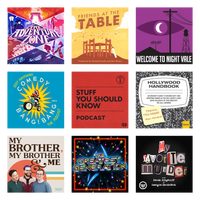 Photos and videos are a great way to add visuals to your wiki. Find videos about your topic by exploring Wikia's Video Library.